A microchip is permanent identification for your pet. If you have questions regarding cat / dog microchip procedures and how they work, then read on for more info. The process is simple, safe, and designed to identify lost pets quickly with the goal of reuniting them with their owners.
Contact Advanced Veterinary Care Clinic for quality & affordable pet microchipping services at (414) 365-5200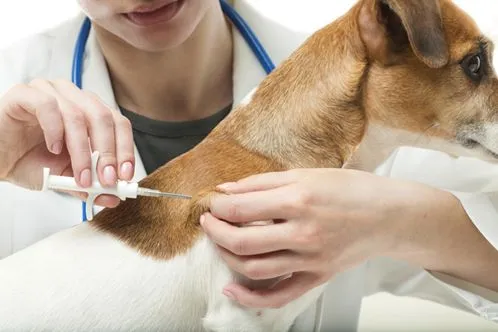 Q: What is a cat & dog microchip?
A: A microchip, also referred to as a transponder, is a tiny electronic chip that is encased by a glass tube, approximately the size of a grain of rice. It is activated when a scanner is passed over your pet's skin, sending out radio waves. The chip then transmits an identification number back to the scanner, which is displayed onto the screen.
Q: How are microchips implanted in pets? Is there pain? Does the procedure require anesthesia?
A: Implanting a microchip is a simple procedure, which does not require anesthesia or surgery. A hypodermic needle is used to inject the chip under the pets skin, and can easily be done during your pet's regular checkup. It causes minimal discomfort, such as what is experienced during a regular injection. However, if your pet is going under anesthesia for a surgical procedure, the chip can normally be implanted at that time.
Q: What kind of info is contained in the microchip? Does it include tracking? Will it store my pet's medical information?
A: Microchips currently only have the technology to store an identification number. It does not have GPS capability, so cannot track your pet's location should it go missing. Nor can it store medical information, though some microchip registration databases permit storage of medical files so that they can be accessed if needed.
Q: How does a microchip help reunite dogs & cats with their owners?
A: If your pet goes missing and is brought to an animal shelter or veterinary clinic, the microchip will be scanned immediately. This allows access to the microchip registry, so that you can be contacted without delay. Your pet can then be returned quickly, eliminating stress for both you and your pet.
Q: How likely will it be for me to get my pet back if he or she is lost?
A: The statistics from a study of over 7,700 animals from animal shelters are impressive, and should make you seriously consider microchipping your pet. Microchipped dogs were safely reunited with owners 52.2% of the time, as opposed to those without a chip, that were only returned 21.9% of the time. Microchipped cats were reunited with their owners 38.5% of the time, whereas those without a chip were only returned safely home 1.8% of the time. These statistics, compiled by Lord etc also JAVMA, July, 2009, found that animals implanted with a chip that were not returned was due to incorrect owner information, or lack of information, in the microchip registry database. So while microchipping is a highly effective way of improving the chances of a missing pet being returned to you safely, it is important to remember to register with accurate information and to keep it updated should circumstances change.
Q: What should I do to maintain my pet's microchip?
A: There are three essential steps to take once a microchip has been implanted, to ensure successful results should your pet become lost:
Register the microchip.
Have your veterinarian scan your pet's microchip annually to ensure it is functioning correctly and can be detected.
Remember to immediately update your contact information in the microchip manufacturer's database should your phone numbers or address change.
Give our friendly staff a call if you have any more questions or if you would like to schedule an appointment to microchip your dog or cat: (414) 365-5200